Interview to the best performers of Gunbot Team in the Binance Spring Tournament
ei Yo wassup? All right, ladies and gentlemen, two fellas got all attention in our Gunthy Elite channel some days ago with their stunning performance in the Binance Spring tournament. You can read right now their key to success using Gunbot Strategies.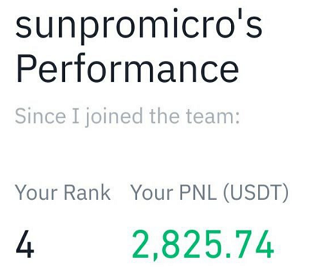 Interview to 90342165 and SUNPROMICRO of Gunbot Team in Binance Spring Tournament
Why did you choose Gunbot as your bot for trading crypto?.
90342165: Last year, I decided to use a bot to make my trades less emotional and based on technical strategies. I tried several bots (around 5 of them). Most had monthly subscriptions, and some bots needed you to buy expensive strategies. The strategies didn't work for me. No matter how expensive and promising upfront.
This January, I started to research again for a good bot and found a review on a trading site on Gunbot. I tried it, love it!.
SUNPROMICRO: Gunbot comes with pre-built strategies and the active developer community with new strategies released often; EWO is my favorite.
What's the best feature for you of Gunbot bot?.
90342165: Best feature is that one can customize the strategies. Also, there are many strategies to choose from.
SUNPROMICRO: Without any doubt, Market Maker plugin for Futures/margin market, with all those safety measures.
What strategy are you using and wallet balance in the tournament ?.
90342165: A mix of FuturesGrid and 1scalp. I think 1scalp works best for me. My wallet balance for futures is around USDT 20k.
SUNPROMICRO: Market Maker with EWO, 3k on USDT-M and 3K on coin-M.
How did you manage to achieve the PNL you shared in our Elite channel?
90342165: 1scalp bought me out of a deep negative ROE moment. When the market turned, I was that good bought in that profits came raining in. My reseller, @NarKotix, has learned me a lot in a short time about how some strategies work. Thnx @NarKotix! He gets paid in rum drowned raisins. Also, thanks to @CrazyMop, who discussed with me how EWO and 1scalp work.
SUNPROMICRO: Careful selection of TL and pairs; I choose pairs that can utilize the entire TL, avoided pairs like BTC, UNI, etc… Secondly, I used 20x leverage instead of maximum leverage, so the ROE makes more USDT. This forced me to keep my TL very low, like 50-100 USDT.
What is the feature you would like to be added in Gunbot?
90342165: It would be a spot trading feature: The possibility to swap what is base and what is quote coin. BTC-ETH is a pair, but I would like to grow ETH instead of BTC.
SUNPROMICRO: I would like to see if TL can be specified in Quote along with Base TL. For long positions, use Base TL, which will DCA with more quote coin; for Short position, use Quote TL, which will DCA with more Base value.
What's the most urgent need that needs to be Fixed or revamped?
90342165: I use https://viraltrading.org/ a lot to learn about the strategies. I think I miss the explanation on the strategies in GB itself or the WIKI. Most of the time, one is pointed to PDFs in Telegram, which was published months ago. The explanation of all standard strategies (spot + futures) should be in the WIKI.
SUNPROMICRO: Difficult to look into the logs for order-related errors; I would prefer all errors to go to the error file separately.
Are u using any special add-on?
90342165: Not yet. But I am going to research the TradingView add-on shortly.
SUNPROMICRO: None.
Congrats, and thanks, guys, for sharing with the community your strategies.
See you next time & happy Gunbottin'