Gunbot News November
Here is What happened last month Behind the Curtains
Last month a lot of things did happen in Gunbot development and we got a lot of new toys to share with you dear user.
Arm build launched
Added ARM version for v20 builds, now you can use your Raspberry Pi with our lovely machine.
Minimal hardware requirements to run Gunbot v20 builds are armv7l with at least 2Gb ram
FTX Exchange Added to our Exchange Portfolio
Adding Value to our existing products and as part of our ever-growing enterprise we added FTX exchange to our core engine, you will be able to trade Spot, Futures contracts, collateralized stocks, and Leveraged Tokens. You can use
You can use as collateral USD, USDT, BTC, ETH, BNB, PAX, XAUT, KNC, BCH, LTC, TRYB, LINK, TRX, CUSDT, XRP, SOL, BVOL, IBVOL, SRM, and FTT and you can trade up to 101x in Futures (Good luck!).
Give it a try to that new addition to the state of the art crypto bot that you love, first impression testing the exchange is that looks really robust in terms of stability and speed of execution as well as deep order books too, feel free to share your experience in our Market_Maker channel.
Market Maker Spot Merged with bitRage InterXchange
– Since build 20.7.0 you're able to test the interexchange arbitrage process. (Accessible to all Market Maker users).
You can find more information on how to do it on our bitRage or Market_Maker exclusive groups.
Gunbot News November – Features
– Improve styling of Orderbook in GUI  -> Chart -> Overview – Now you can see volume bars in the BID and ASK too.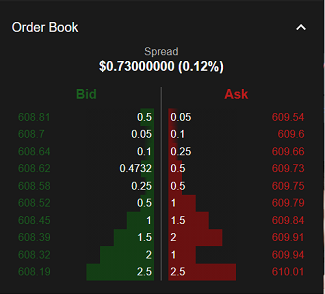 – Small Refactor of Markets sidebar with the search function.
– Moved PNL analysis to the tab on the dashboard for a better UX.

Restyling of several layouts and popover windows.
Small tooltips change.
Tunned and tweaked Liquidity strategy for better and more reliable performance.
Remember, there is a Trading Competition Going On, Get Ready!
That's all folks, happy gunbottin'.
Don't forget to Purchase Gunbot from one of our Official Resellers if you haven't done so already…
And Visit www.gunthy.org to Learn More and Review our Full Range of Crypto Trading Bots