Gunbot News – What Happened this last week?
Hi all folks,  our devs have been busy coding our new "Alerts" system for gunbot chart view, main idea behind it  is that you're able to trade the way you want using the tools you like, final goal is automation of any object in chart page to be able to create as an strategy for your ALGO bot. As well the usual fine-tuning of the user experience and tweaking our engine of our state of the art money machine of course with the help and enthusiast of our community. Meanwhile Bitcoin have been sideways forever and ever maybe the summer will end and will be still sideways. Good opportunity to trade some niche ALTS.
Gunbot new feature and strategy Alert System (WIP)
Actually in latest Gunbot you can draw a pattern (trend line) or add  an indicator ( RSI, Accumulation-Distribution or …)  from chart view clicking in Indicator button in the chart page and allows you to set an Specific alert when the priceline is hit will buy/long or sell/short, take into consideration you can add more than one object so "&" condition applies to your Alert strategy.
This is how u create a new alert with this new amazing strategy:
– First click in Indicators icon in Chart page.

– Add all your needed/wanted indicators from the dialog window.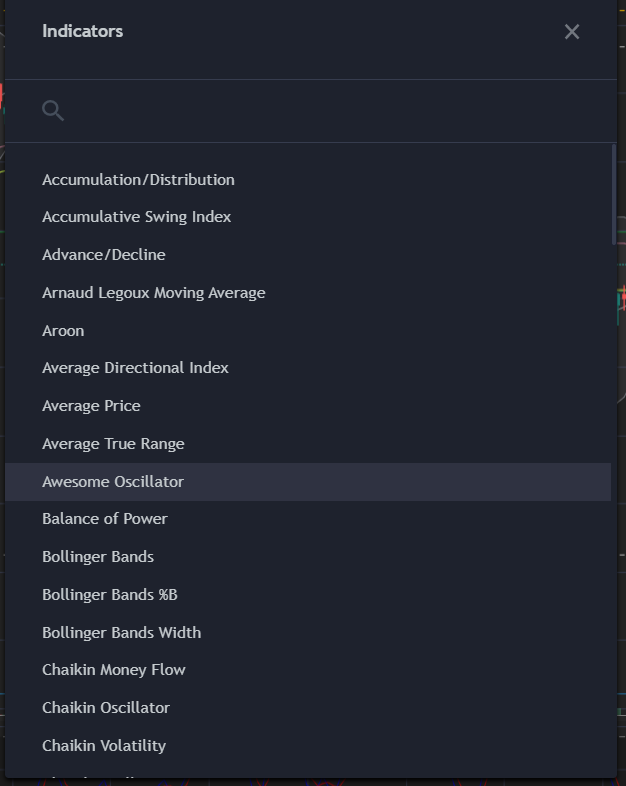 – And they will appear in the chart view.

– As well if you want you can select the Trend Line tool from the left side toolbox in your screen, and draw a trend line.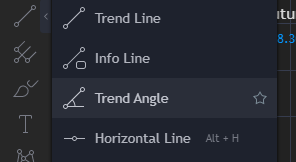 – After you can click in Alerts in Top Menu.

And a new side pane will open in the right side of your chart view and you can select any object and add it to your Alert strategy, add specific behavior like Cross_UP Cross_Down, Greater Than and many other conditions, those specific options you will have available will depend in the type of object after you're set you click Send Alert button and when price line crosses the objects and conditions applies your Bot automatically will buy, sell, long or short depending on the type of exchange you're using the Alerts system.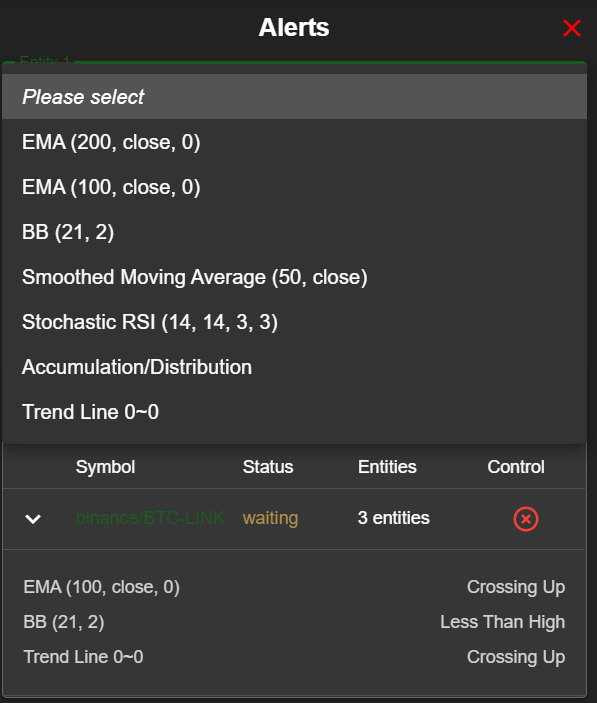 "Let us know in any of our community groups what type of advanced Alerts you have been playing with!"
Gunbot News
– You can rename or duplicate any strategy directly from GUI, Make sure to also update the assigned strategy for pairs.
– Added recent trades in Dashboard page.

– Several GUI enhancements for a better user experience.
Market Makers News
– New feature called PND, what's better than Roe Trailing? knowing when the pump or dump is over. Another gift from our whales friends: set PND true in your margin/futures strategy from the GUI and it will ignore any ROE close setting of yours and close your position when the whales are done.
– Fine-tunned CANCEL_SPREAD method for S/R, MOTO, Fib_Ret and Grid bots.
That's all for this Week, have a happy gunbottin'!