Gunbot News – What Happened behind the curtains this last month ladies and gentlemen?
The month that is just ending was special as usually a lot of fellas are in vacation as well many people from our community for those dates but this year was more special with the covid pandemic going on,  Anyhow our devs never ever stop as market don't stop either so we need to provide you with the best possible money maker you can get.
So here is a brief summary what we have been doing and testing…
Gunbot News for August
Gunthy App in public  test in our channels
We're testing our new mobile app that will allow you to connect directly with your Gunbot bot or Gunthy Exchange on the road from your smartphone or tablet without the need of any other application. To be released (soon) in the proper mobile stores (Android and Apple).
Stay tuned for More Gunbot News
New Pullback Strategy for Market Maker
New strategy available in our latest Gunbot Market_Maker called Pullback (WIP), the strategy primary goal is try to find bottoms and tops in the minor time-frame getting best possible entries for scalping or if you use larger time-frame for Swing Trading. The strategy uses 3 emas (50,100 & 150) and the strategy tries to find every minor pullback of the price no matter if it's short or long. Example of a pullback is when price goes below ema1 and ema2 during a pump and then bounces above ema1 again.

Picture above showing "Pullback" with two possible entries for a Long position.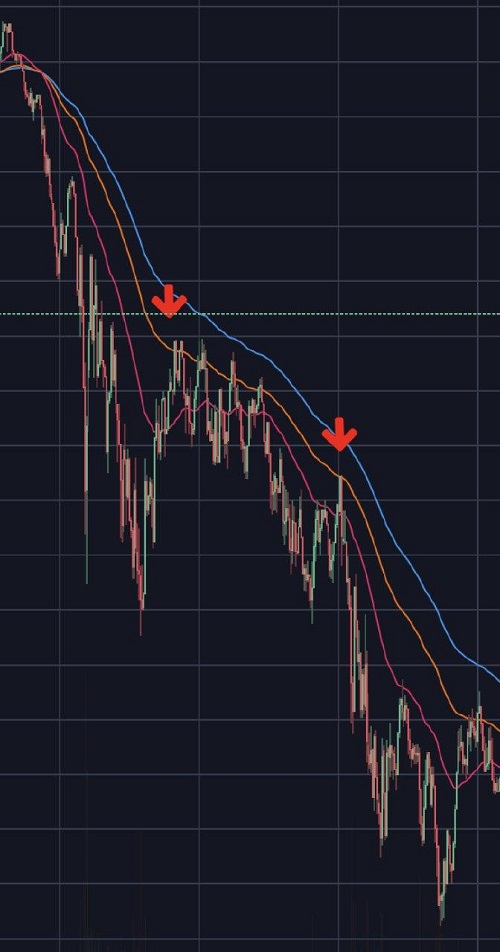 Picture above showing "Pullback" with two possible entries for a Short position.
Notice that the strategy don't will ladder any entry, so a single entry and a single exit and if "shit" hit the fan then it will normally DCA your position averaging your entry price as any other Market_Maker strategies from our state of the art Market_Maker bot.
Gunbot Restart less builds are a real quantum leap
Old school gunboters always used the trick to timely save the config changes with Gunbot to don't interfere with cycling specially when is trailing profit, well the day arrived since build v19.9.7 you can change any settings and it will be changed on the fly without any impact to your Gunbot cycling. Every second counts in trading crypto.
Gunbot Multi-Core Experimental based on Gunbot v19.9.9.X Preview
Install our new management app and configure each instance and you will be able to have a o central command center to view, control and change any parameter of your instances, no longer need to login multiple servers to view and handle your Gunbots.
That's all Gunbot News for now dear users, c-u soon!
To review our full range of Crypto Trading Bots, go to www.gunthy.org