Gunbot Permanent Tournaments – Binance, Gunthy Mex and Futures added in July 
Hi folks, in case you didn´t read it in our tg channels as a special gift for our gunbotters, we added Binance, BinanceFutures, Gunthy Mex & Gunthy Futures to the Permanent Gunbot tournament. Once again is time to put your trading skills to the test. Who's gonna take the win this time? Come along with us to the Gunbot tournament in July 2022.
Gunbot Tournaments are the greatest opportunity to improve yourself as a trader, share profitable strategies with the biggest traders in our community, the biggest traders in our community, and earn some great money if you can beat the best traders.
Binance / Gunthy Mex and Futures Crypto Trading Competition Rules
– This month, Gunbot users can join any of the sponsored exchanges or all of them and grab from the jackpot of 10,000 USD and a massive 100,000 GUNTHY tokens pot.
The tournament for the binance/gunthy mex and future's exchanges did start at midnight UTC on the 1st of July 2022.
Each participant must complete at least 50,000 USD on futures markets or 5000 USD on spot markets.
The total prize is 10,000 USD and 100,0000 GUNTHY distributed as follows:
From 50 to 100 qualified participants at any market: the unlocked prize is 1000$ and 10,000 GUNTHY.
From 101 to 150 qualified participants: the unlocked prize is 3,000$ and 30,000 GUNTHY.
From 151 to 200 qualified participants: the unlocked prize is 5,000$ and 50,000 GUNTHY.
Over 200 qualified participants: the unlocked prize is 10,000$ and 100,0000 GUNTHY.
The unlocked prize will be distributed to qualified users that will reach the highest PNL % at futures markets, as follows:
From 1st to 10th highest PNL%: share equal percentual of 50% of the unlocked prize.
From 11th to 50th highest pnl%: share equal percentual of 30% of the unlocked prize.
From 51th to 100th highest pnl%: share equal percentual of 20% of the unlocked prize.
How to join the Gunthy Mex/Futures Crypto Trading Competition in July 2022
You must be an active binance/gunthy futures or spot user, if you're not already a binancian or gunthy user create a gunthy account here.
Open a chart and click on the dashboard – PNL button.
Select a pair from a participating exchange in the tournament, and stay on the page for 60 seconds.
After you can check in our tournament portal if your nickname has been added and the classification.
TIP: Do this from time to time in order to refresh your stats.
Gunbot Permanent Tournament Updated
Binance.com exchange.
Gunthy Mex exchange and Gunthy futures.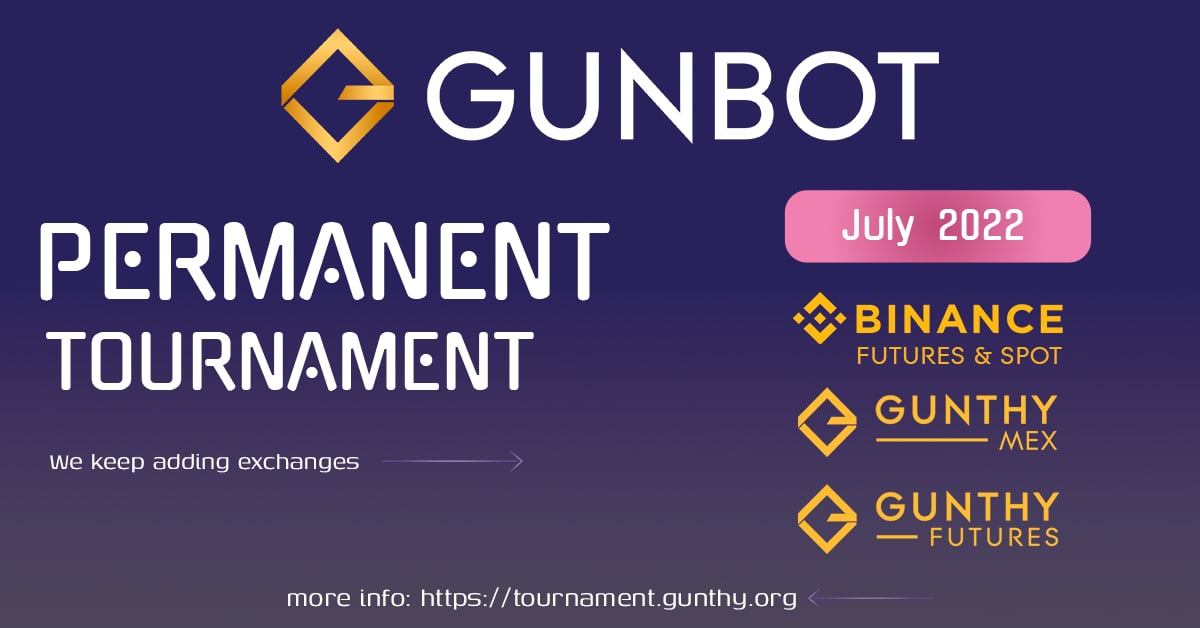 How to opt-in for the Gunbot Permanent Crypto Trading Competition – Configuring your Gunbot
Click the Profile icon.
Click on the Tournament Tab.
Toggle on Tournament Opt-in.
Set your nickname, and click apply at the bottom of the page.
Click on the top Menu  – Save Changes button.
"Make sure to give your bot a unique nickname, and it will be shown on the tournament leader board."
If you run multiple bot instances and want all of them to participate in a tournament, number your instance nicknames like this: TraderNickname_1, TraderNickname_2, TraderNickname_3. They will automatically get aggregated to a single leaderboard entry at the end of the tournament.
Don't Forget to Grab your Gunbot License if you don't have one.
That's all folks, happy bot tradin'