Gunbot Resellers Spotlight Series. Who is GunbotSmith?
Find out How to use a Gunbot custom strategy from one of our distributors in this Gunbot Resellers Spotlight Article.
We told you that we would do a post a month, but our resellers are eager to share some great information with you, so we've decided to make these articles available once a week. Still, if we get pushed by the resellers, we can do more than that. 🙂
We also want to explain that, "the reseller of the month" wasn't meant to show a reseller better than the other one, the idea was to give this section a name and get organized.
However, we realized that once a month will put some resellers far back on the list. So, we will use "Gunbot Resellers Spotlight" instead (this may change too) 🙂
Still, what will not change is our promise to deliver educational crypto trading content for you.
So, without further ado, please allow me to present to you…
Gunbot Resellers Spotlight – GunbotSmith
Steven "Gunbot" Smith is a very active supporter, always providing his artwork shares on social media following and liking all Gunthy Official posts every time. Thank You for that!
He also has provided his personal strategy for FREE in our Gunthy Marketplace. So now, he will explain to us how to use it and let us know what he got to offer as an Official Gunbot Reseller. Are you ready? Let's go!
GunbotSmith: Hi all, today let's have a look at some performance tweaking of broxynet.com's flagship custom strategy, "BroxyNet." (available from the Gunthy Marketplace for free)
Let's see what pairs did well and what pairs should go in the bin.
First off why would we want to do this? By analyzing our performance we can gather more insight on profit performance and increase better risk management decisions. With this in mind, I will choose the number of pairs to start a Gunbot instance running, based on most importantly my wallet balance.
I use my custom-built TL and DCA calculator to determine what a safe number of pairs is to run. (example)
1000 USDT balance = safe to run 2 pairs with a TL (trading limit) of 20 and 4 DCA (dollar cost average) buys each.

Now in most cases, min volume to trade on an exchange is around 10 USDT so I lower my TL to 10 and add two more pairs. This is step one of correctly setting your bot for trading(IMO)
Next, we will look at 15-day performance and PNL's (profit and loss) keep in mind those are not always mutually exclusive and should be looked at as two metrics to examine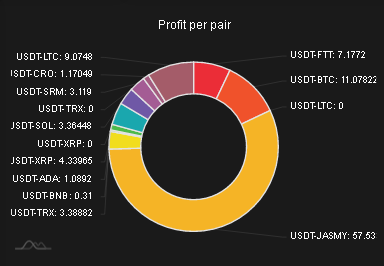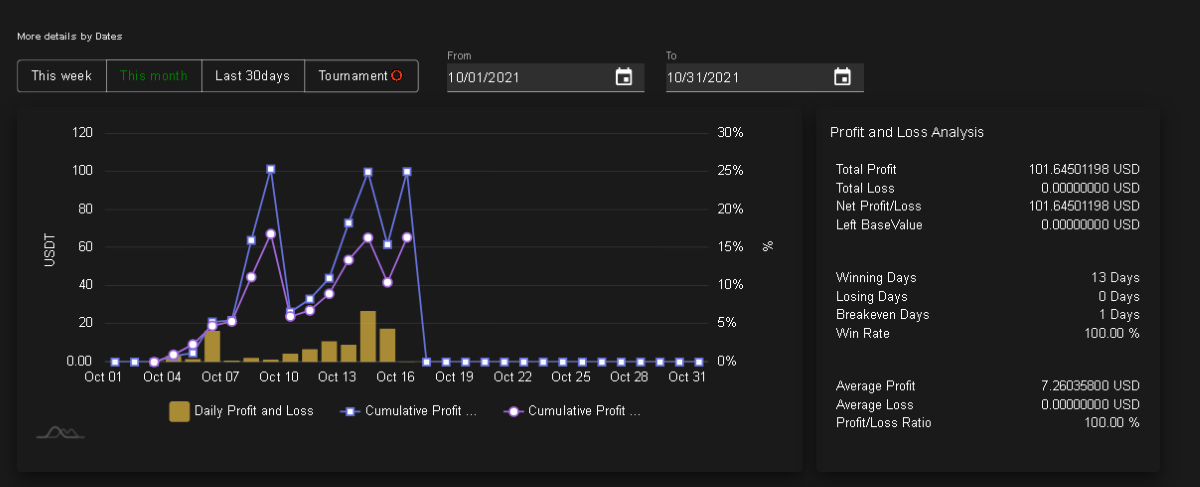 Let's now look at performance vs PNL for pairs USDT-TRX and USDT-SOL.
You can see based on trade frequency and consistency, one might suggest that USDT-SOL has performed OVERALL better.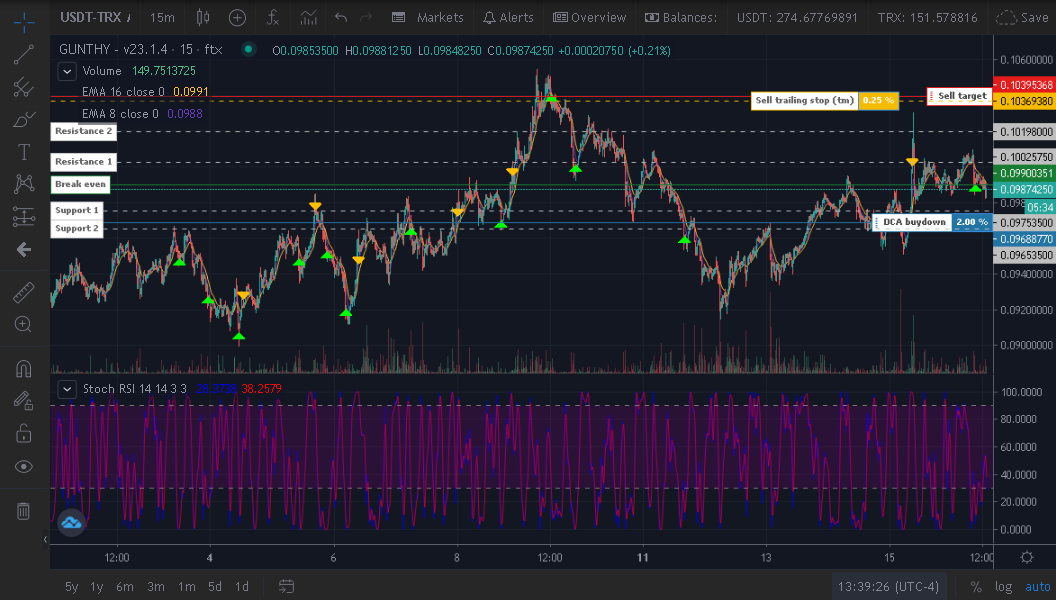 So in this case again as an example, I would consider removing pair USDT-TRX and increasing the TL for pair USDT-SOL. You may be asking why? A simple method is using trades per day or simply Trade frequency.
Looking at the two pairs in question, one can see USDT-SOL has made more trades in a shorter time period with less time between trades. Seems simple right.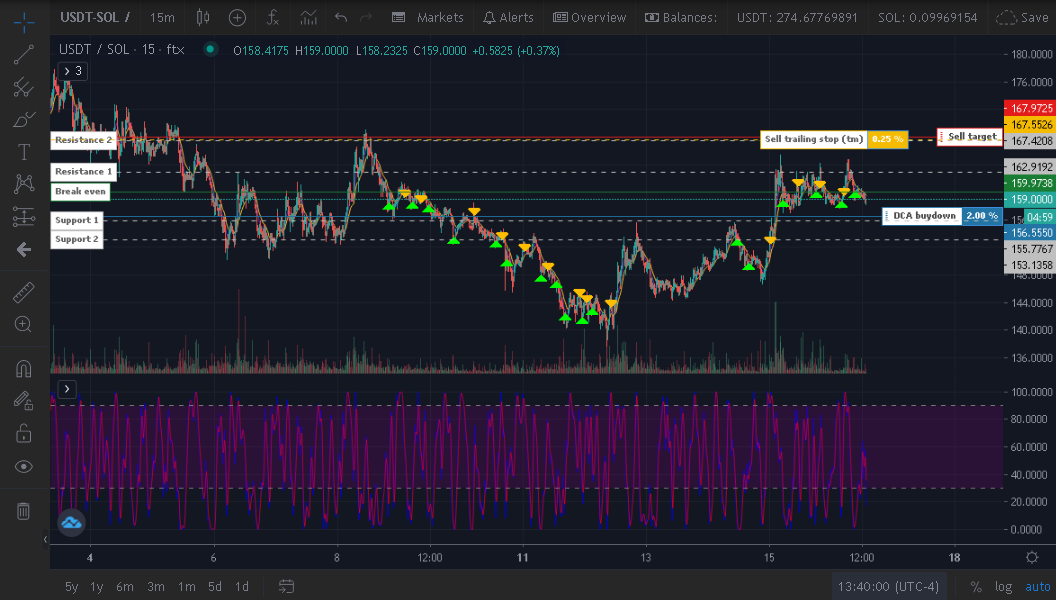 OK back to the house cleaning let's keep it simple and stick with just removing pairs based on what we learned above.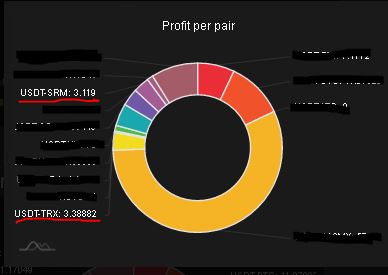 Pairs to be removed (after closing current trades)FTX: USDT-TRX, USDT-SRM that will free up around 30 USDT to be moved to increase the overall good pairs TL.
That's it! enjoy the increased profits and more consistent trading flow…
Gunbot Resellers Spotlight – About the Reseller
BroxyNet is a Gunbot reseller and automated trading service, provider. We self-host and provide solutions for the everyday crypto trader and the first-time investor.
Our goal is to bridge the gap between classic trading markets and emerging crypto markets.
A Gunbot trader since late 2017, Joined the Beta tester program in mid-2018 and became a Gunbot reseller in late 2020.
Our focus is trading on spot markets using Gunbot's built-in Autoconfig feature, using custom strategies.
Broxynet.com also provides tools like. Strategy TL calculators, ready to run Linux-based VM's and market current strategy updates to all our customers as well as hands-on help and strategy troubleshooting via our private discord group.
Happy Gunbotting!!
Stay calm and Gunbot.
Steven GunbotSmith Social Media Profiles
Thank You, Steven, for your explanation, for offering a Free crypto trading strategy in the Gunbot marketplace, and your continuous support.
To the Gunbot community in general: Keep an eye on these posts from our Official Resellers so you can learn and stay safe. Till next time.
If you're reading this post and do not own your bot yet. Realize that, Gunbot is the most advanced Crypto Trading Bot on the market.
Gunbot makes it easy to trade your favorite coins with its included trading strategies plus the ones you can get for free on the marketplace.
Your successful trading journey is just a click away with Gunbot's automatic trading tools.