Gunbot Strategy Overview Tenkan for Futures Markets
ei Yo, it's time for another Gunbot strategy overview.
Tenkan strategy is based on Tenkan Sen of Ichimoku cloud strategy.
What is the Ichimoku Cloud?
Ichimoku cloud is a method of technical analysis that is often called Ichimoku. It is based on Japanese candlestick charting to predict future price movements.
Only in the 1960s did Ichimoku came to the public's attention when a Japanese journalist named Ichimoku Sanjin, also known as Goichi Hosoda, released it publicly after three decades of perfecting it.
The Ichimoku Cloud Strategy's idea is to use a moving-average-based trend method to indicate where the price is likely going.
In addition to price action, Ichimoku uses time as another element, and because greater data points are used, it is generally regarded as providing a clearer picture than Japanese Candlesticks.
Let's talk about Tenkan Sen, the one that we use in our latest Gunbot Strategy?
Tenkan Sen in Gunbot Chart "Conversion Line"
The Tenkan Sen is a measure of the average of a price's highest high and lowest low for the previous 9 periods.
It is not a simple moving average over the prior 9 periods, as some contend.
The philosophy behind the Tenkan Sen measurement is that the average of closing prices over a period is less valuable than the average of price extremes.
By following this method, the concept of equilibrium is introduced to technical chartists when using Ichimoku.
How we use Tenkan Sen in Gunbot strategy Tenkan
– We open a position when Tenkan crosses down the candle's body below the KUMO (long) or Tenkan crosses up the body of the candle above the Kumo (short).
– If the price goes against the entry price, we DCA based in our DCA_SPREAD and trail tenkan till is below the body of the candle or above the body of the candle depending if we're long or short.
– If our ROE is reached and Tenkan signals the close of the position, we will trigger ROE_SCALPER and trail the price till we hit our stop and close the position.
Below is an example of a complete starting a short above the Kumo and ending below the Kumo.
How to configure in Gunbot above Standard Tenkan Strategy for trading with Margin or Futures.
– Open GUI
– Go to Strategy Editor create a new strategy select Buy Method / Sell Method Tenkan.

– Go to TAB balances set your Trading Limit.
– Go to INDICATOR TAB, set your PERIOD, and you can finetune your Ichimoku if you like to (I'll speak about this later).

– Go to the MARGIN tab and set your desired ROE to close your position, the trailing for ROE_SCALPER and DCA Spread value.

– Go to the MISC tab and set your Stop limit (leave the default to disable it) and Market close if you want to send a market order or limit order to close your position, recommended market.

– Go to pairs in the top menu, add Tenkan to the pairs you want to trade with Tenkan strategy.
– Save parameters in the top menu.
How to configure in Gunbot MM bots Tenkan Strategy for trading with Futures.
– Create a default legacy MM strategy, configure the way you like your ROE  without adding any strategy variant and configure your risk level.
– Open a text editor and in pair override add "MAX_OPEN_CONTRACTS" value in quote & "MM_TENKAN": true,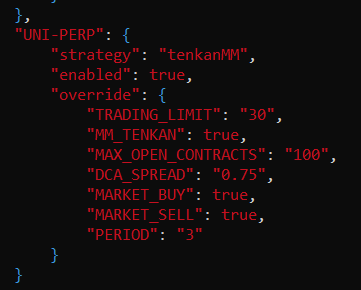 – Save the file, stop your Gunbot and relaunch it.
DCA can be used as a maker or taker; to use as a maker, just set in your pair overrides MARKET_SELL false, MARKET_BUY false.
Ichimoku Cloud Crypto settings
Last but not least, the controversial bit:
Should you use alternative settings for Ichimoku Cloud on cryptocurrency markets?.
Ichimoku cloud uses past actions of the market to predict the most probable price direction shortly.
The cloud is rendered from simplified past moving averages calculated from past highs and lows.
Because Ichimoku cloud takes the past action to predict the most likely future ranges and breaking points, traders want to reflect the past market action as precisely as possible.
Ichimoku works with timely moving averages, so on the crypto markets, it follows reason to set meaningful timespans because crypto trades 24/7/365.
The traditional Ichimoku cloud settings (9, 26, 52, 26):
9 represents a week and a half of trading.
26 equals the number of trading days in a typical month (30 minus four Sundays).
52 equals two months of trading days.
The idea of special Ichimoku cloud settings for cryptocurrencies is that the market is open 24/7 (20, 60, 120, 30):
7+3.5 = 10 (because of low volume on Sunday).
30 days in a month.
2 trading months in crypto = 60 days.
Please feel free to share in our channels the Ichimoku settings that you use and your experience with the Tenkan strategy.
That's all folks, see you next time, and happy gunbottin.'