Come Together with the Gunbot Team to the Gunthy Futures Binance Grand Tournament
Join us in the next Binance Futures permanent tournament, united we're stronger!.
Are you ready for the next Binance Futures Tournament? Get Ready for the Gunbot Binance Futures Crypto Trading Contest. Test your strategies, because the competition is about to begin.
The Gunthy Futures Crypto Trading Contest of December Starts Soon
A new crypto trading contest is here, open to all traders! Give it your best shot Today, and see who's the best.
It's no secret that sharpening your trading skills can pay off huge. The ability to adapt to fast-changing market conditions, optimize your investments, and predict trends gives you an edge over other traders.
With our new trading competition starting now, we're sure you're already getting excited to meet up with your professional trading bot and start earning some serious cash.
Get ready for your state-of-the-art Gunbot strategy as we start in just a few days.
The Exchange included in this new Tournament is:
Let's clarify this, we participate with our own exchange futures.gunthy.org which is in fact the same as participating in binance.com because the servers are from Binance themselves, Gunthy Ltd is a broker of Binance exchange and we participate in the category of broker in the Big Binance Tournament.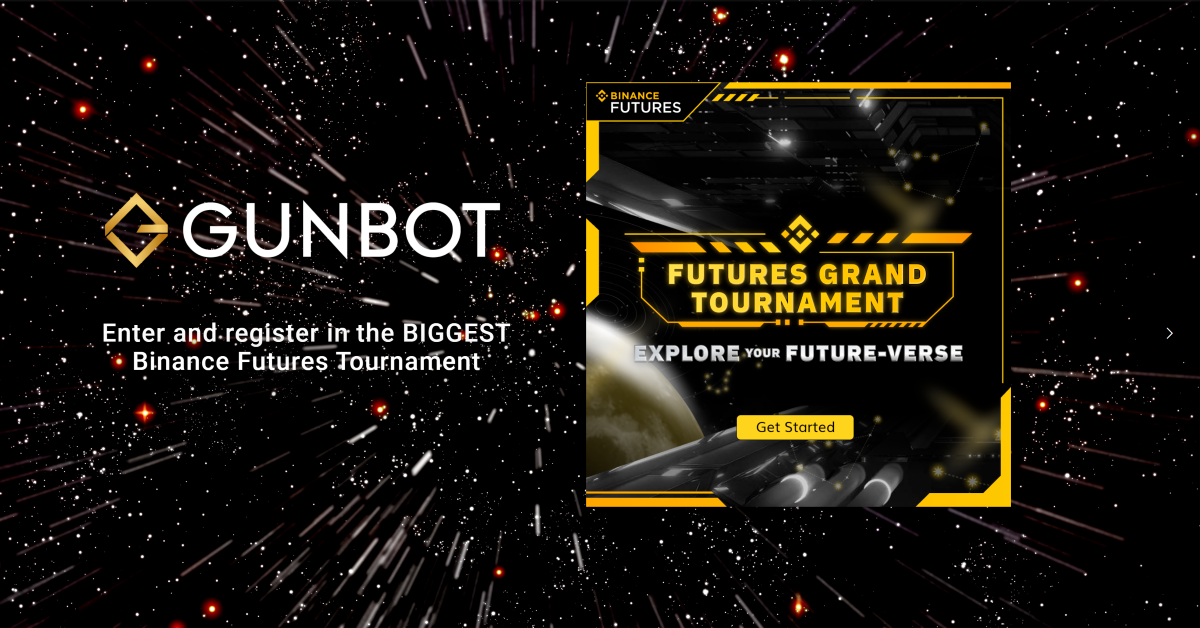 Gunbot Tournament is the most incredible opportunity to improve yourself as a trader and share profitable strategies with the most prominent traders of our community and earn some great money if you can beat them.
Campaign Duration:
Registration Period: 2021-11-27 00:00 to 2021-12-24 23:59 (UTC).
Competition Period: 2021-12-10 00:00 to 2021-12-24 23:59 (UTC).
Market Maker fully unlocked from the first day of Tournament in Gunthy Futures.
All participants of the tournament will be able to use our jewel of the crown Market Maker bot in the Gunthy Futures exchange for the duration of the tournament.
Dynamic Prize Pool Amount (in BUSD)
The total prize pool for each competition will be determined based on the total number of tournament participants across all competitions. The more participants there are, the higher the total prize pool will be. The maximum prize pool is 1,800,000 BUSD tokens.
Daily Prizes 
| | |
| --- | --- |
| | |
| | 25% of Individual Daily Prize Pool. |
| | 15% of Individual Daily Prize Pool. |
| | 10% of Individual Daily Prize Pool. |
| | An equal split of 50% of Individual Daily Prize Pool. |
Gunthy Futures Crypto Trading Contest Rules
– This month, Gunbot users can join the gunthyFutures tournament and win up to 1,800,000 BUSD.
The Tournament starts at 00:00 UTC on the 10 of December 2021, and it will end at 23:59:59 UTC on the 24 of December 2021.
Each participant must complete at least 10,000 USDT of total volume in futures pairs at Gunthy Futures exchange for the duration of the tournament.
How to join the Gunthy Futures Crypto Trading Contest in December 2021:
You have to trade in Gunthy futures exchange with your Gunbot to qualify for the tournament and make sure you register in the form, as explained below in the next section. If you don't have a Gunthy Futures account, don't worry, be happy and sign-up here first. Follow the KYC procedure, and make sure you send proper information if it's an ID CARD, take a picture of your identification card from the front and the back.
After clicking to any banner in our main pages on any of our official sites, viraltrading.org or gunthy.org you will be redirected to a google form.
Enter your email id used in Gunthy exchange and the nickname you would like to use. and this is all.
Risk Warning: Futures trading is a highly risky endeavor, with the potential for both great profits and significant losses. Please be aware that in the event of extreme price movement, there is a chance that all margin balances in your future wallet may be liquidated.
If You don't Own Gunbot Yet Get Your Gunbot so You Can Profit
United we are stronger, join our Binance Broker Team!
That's all folks, c-u in soon, and happy bot trading.