Gunbot Development what's Been Happening in the Past Months
Find out the Latest Crypto Trading Bot Improvements. Gunbot Development. Discover the Newest Features and How you can benefit from them.
A lot is going on behind the curtains, our devs never stop trying to bring you the most killer money machine available in the market, and soon we will have really important news in development regarding some of our products (yeh, probably you heard it already our "arb-magic" bot is being revamped).
Without further ado, I'll go through the new features and goodies that were introduced in v23 up to the latest beta v23.1.2.
Gunbot News
Finetuning to Profit and loss stats.
New OKEx v5 support.
Native Code Editor inside gunbot GUI, that's a major improvement, it will allow you to edit configs and custom strategy files. View JSON files and config backups.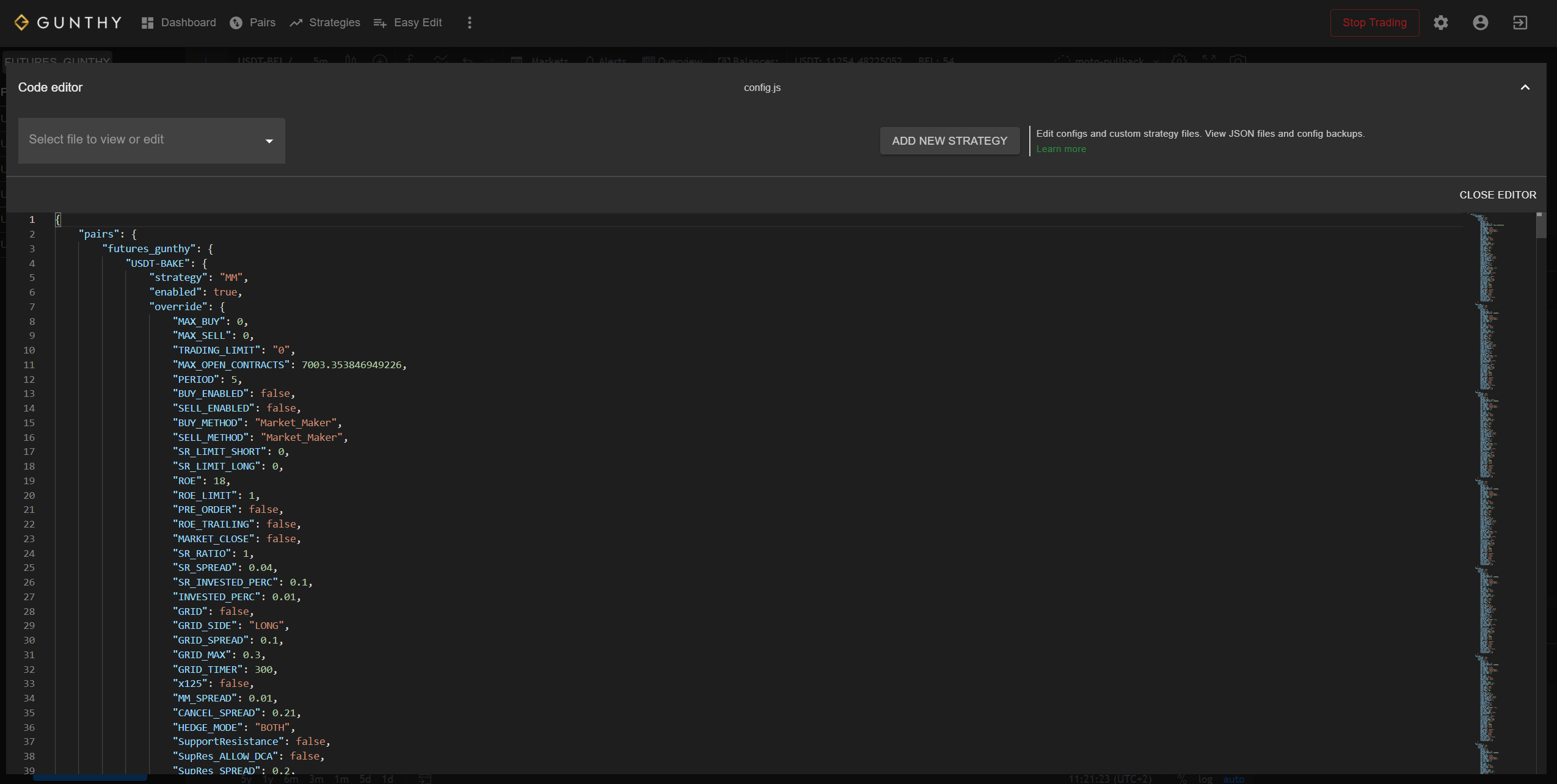 Keep dust to a minimum when using manual step size in stepgrid.
AutoConfig: add a new job type, "manageOverrides2" that can use ticker filters to manage overrides. Output options are exactly the same as for "manageOverrides". Use the GUI AC or code editor to create a valid job template.
Use ask instead of bid for triggering stepgrid trailing buy orders.
Trading Terminal several fixes have been applied to have a better UX.
Add gunbot config as built-in variable for custom strats: gb.data.config (read only)
Gui overview sidebar: rewrote break-even price appearing as truncated numbers in scientific notation.
AutoConfig: add an option to load custom data from a JSON file, contents can be accessed with this.userData in filters, and other places where custom code is possible. Custom data must be in a file called acUserData.json in the gunbot root folder. This can be useful if you have an external application providing market data you would like to use in AutoConfig. If you can make the data available as a JSON file, you can use it.
Refactor GUI notifications using a new framework.
The new auto-heal feature is able to auto-fix the config of your gunbot itself if it gets wrong data from the autoconfig.json running or incorrect data entered by the user. So gunbot will be able to launch the GUI at least.
New changes to overview for Okex Spot exchange to show common spot information.
StepGrid: better workaround exchanges not sending up-to-date orders info, to hopefully prevent bursts of unintended orders.
New Hedge strategy based in stepgrid for now only available for bybit exchange. (WIP).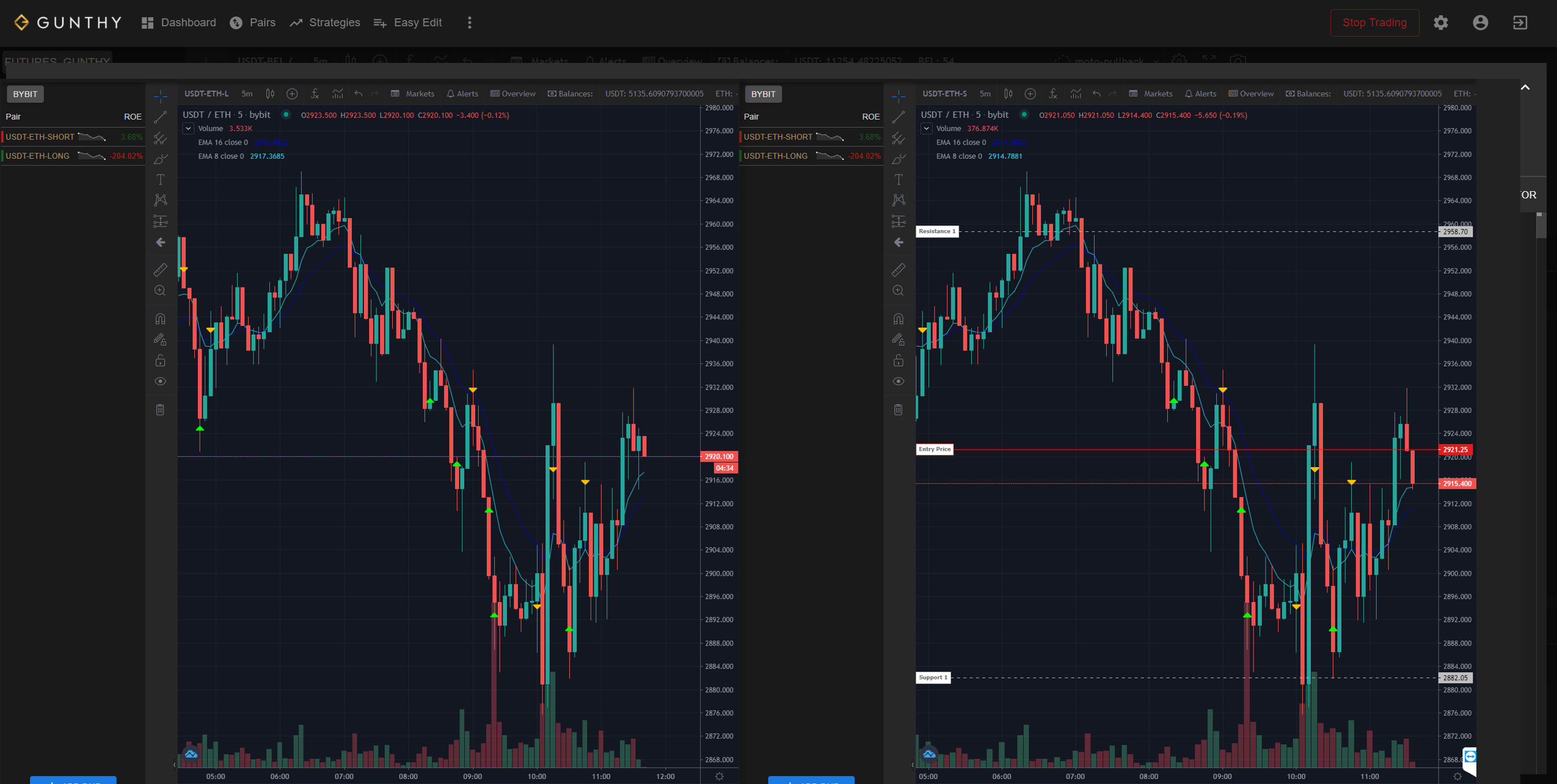 The image above shows real-time trading Long and Short contract in same pair USDT-ETH at bybit exchange.
Market Maker News
ZyABP calculation improvement for the trading fees.
Buy enabled & Sell enabled toggle available for futures GRID strategy.
Telegram bot improvement for profit & loss notifications for futures markets (WIP).
Bitrage & InterXchange News
Stay tuned to Viral Trading for more Gunbot development news, Gunthy Announcements in Telegram, and our Social Media Channels!
That's all folks, c-u next time… Don't forget to Grab your Gunbot License from any of our Official Resellers