What's new at Gunbot in 2023 Q1
Hi all folks,
The new year has begun and Gunbot is still going strong. Here are some of the latest features in our Beta series that are already implemented. Check out Gunbot in 2023!
ChatGPT added to Gunbot in custom Strategies
Our custom strategies have elevated the thrill of trading by allowing users to create their own trading strategies, such as the quantaG strategy in Gunbot. With ChatGPT integration into Gunbot, even those without coding experience can effortlessly create their own custom strategies. Simply describe your desired outcome to ChatGPT prompt in the code editor in our GUI and watch it come to life with ease.
How to create your own customStrategy using ChatGPT directly from the Gunbot GUI
Above Gunbot build v25.1.9, open Gunbot GUI in the browser.
You click in the top menu – Open Code Editor.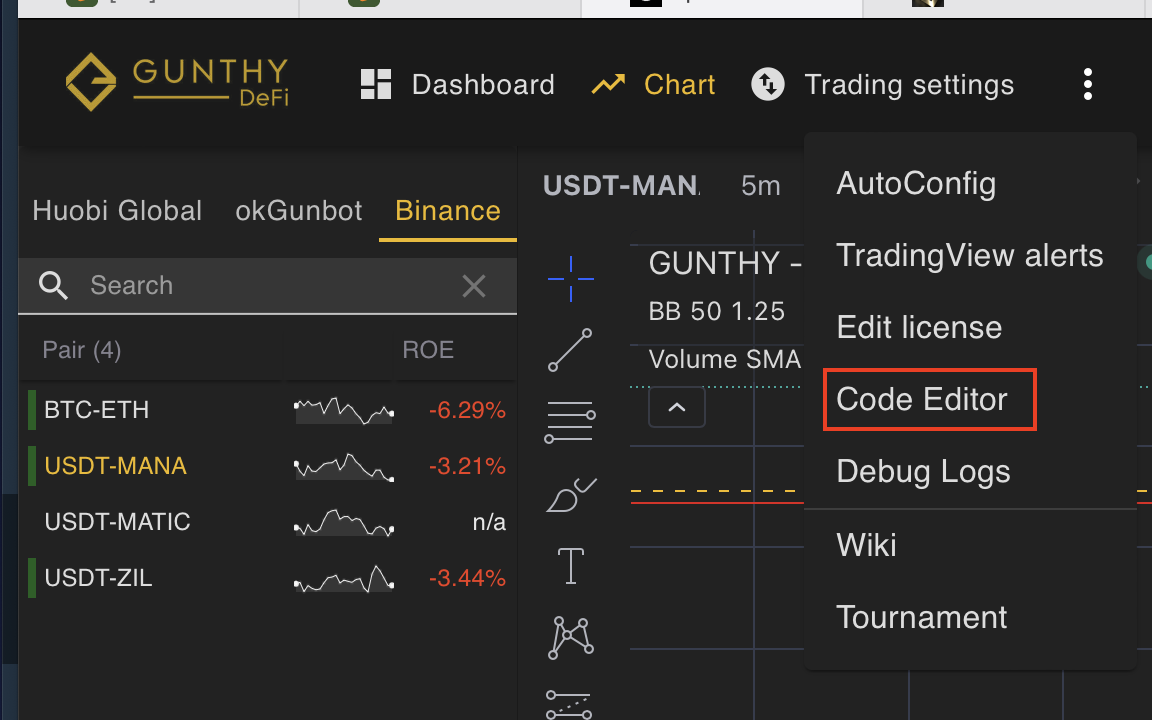 Select Create new Strategy.

Set a name and click maximize in the Gunbot AI Prompt.
Then just type your request. please clearly state what you would like to accomplish with the strategy, using plain English or your own language. The more accurate your request, the better the resulting code will be.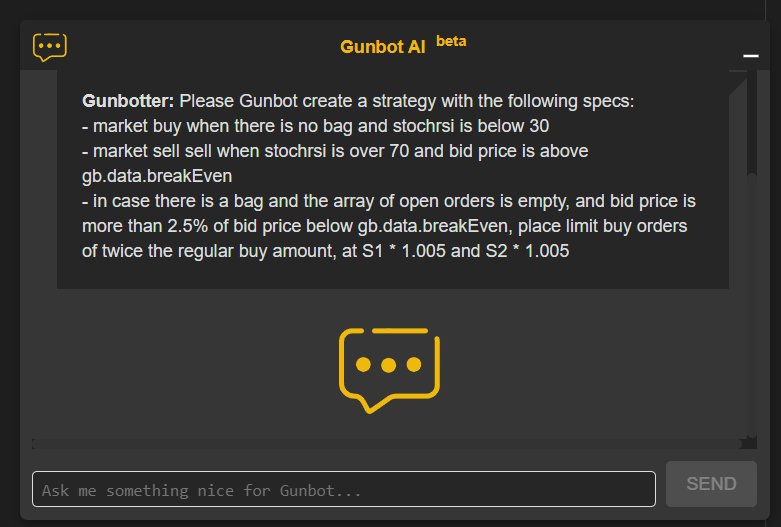 After a few seconds the code it's generated, review the code, you can give more instructions to refine it if you need.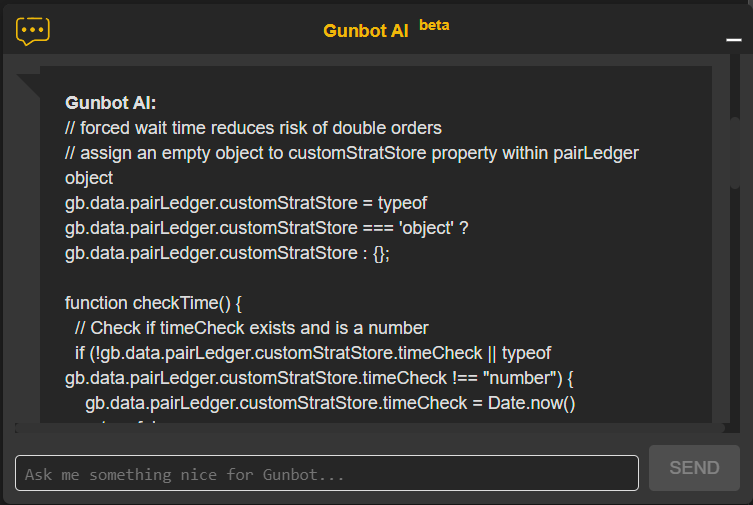 At the end just click SAVE in the bottom of the Gunbot AI form.
Congratulations! You have successfully created a custom strategy using purely driven artificial intelligence, isn´t that amazing?.
Some things to take in consideration when using Custom Strategies created by AI.
Initially, load the strategy and examine the code. There may be some small errors or inaccuracies in the math. However, OpenAI claims to have improved their mathematical calculations in their latest build. It would also be useful to gain a basic understanding of the JavaScript code for practical use in a production environment.
Before using it on a production server, test your new AI strategy in the Gunbot simulator.
Metamask integration in Gunbot

Gunbot now integrates directly with Metamask, eliminating the need to re-confirm your license with the backend system. Your license information is stored on the Ethereum blockchain and tied to your Metamask wallet. To use Gunbot, simply enable it with an internet connection and your Gunthy license information will be automatically retrieved from the Ethereum blockchain.
"Your Gunbot no longer will need to call home"
With safety in mind, be sure to take the necessary precautions to secure your Metamask wallet before integrating it with Gunbot.
Caution: Due to the needed security, it will no longer from mobile application to login to your Gunbot GUI as there's no option to validate through your mobile browser in metamask.

New Stepgrid Scalp Futures Strategy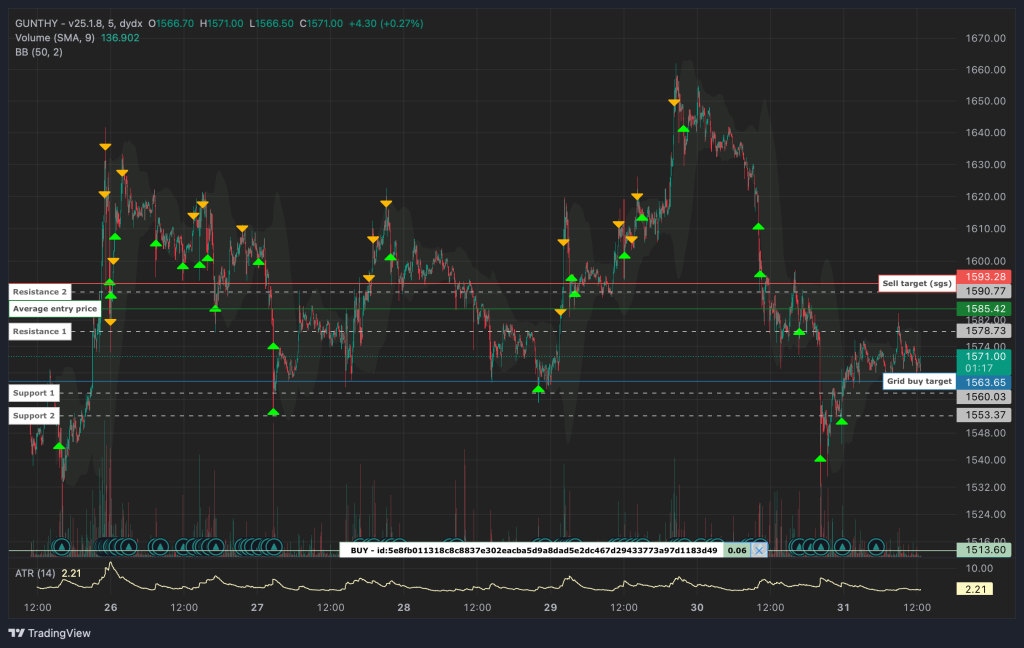 A futures strategy similar to the spot stepgridscalp strategy, except that it does not partially close trades with prices below the average entry price (excluding small stop losses). The default settings in this strategy differ from the spot and result in a higher trading frequency.
This strategy currently operates in long-only mode, with short mode to be added in a future release.
Key Features:
Multi-timeframe monitoring: User-configurable low, medium, and high timeframes for monitoring trend changes, momentum strength, and more. For example, trade on 5-minute charts while monitoring 15-minute and 4-hour charts.
Dynamic Trading Styles: Automatically switches between normal grid trading, cautious scalping in upper ranges, trading supports, and different sell trailing styles based on market conditions.
Trade Supports: Switches to a mode where it trades higher timeframe supports with limit orders when the market looks unfavorable.
Sell Trailing Styles: Includes regular trailing with dynamic trailing ranges, candle low trailing, and micro stop loss style.
Quick Trend Detection: Detects trend direction changes quickly.
This strategy stands out with its trend options. To protect the author's work, the specific details are not publicly disclosed. However, the way data is utilized is much simpler and more transparent than in prior strategies that use black box data.
"The strategy works well to be used on the dYdX exchange during current market trends, unless market totally bearish. No investment advice & always DYOR"
You can read all documentation and parameters explanations in our Wiki.
That's all Folks,  happy bot trading & c-u soon.