Starting from 1st of May 2020 a new phase starts that will involve the whole community, here are details:
a new path for Gunbot begins: we go full GUI as we slowly deprecate the terminal interface and leave it only for nerds that will want to continue to go ahead using terminal only
licensing system will enter its final stage to full blockchain
a permanent tournament will distribute thousand of dollars to all Gunbot users
we start again expansion of GUNTHY token listing: we are actually talking again under different conditions with Binance, Kucoin and OKEx
We officially start with GUNTHY exchange advertising and grand opening as the final steps for legal license will be complete
Let's see the details of each point:
The concept behind a trading software is to provide all needed tools to allow the best and fast User Experience without giving them the hassle to edit JSON files, pair spelling, unreadable error handlers, etc. As an example, I could mention your Binance website: what if Binance asks you to edit a config file manually before being able to trade at their platform? Would you still keep trading at Binance? So this is the path we are going to follow: I want every user to be able to start Gunbot and use it straight away from the user interface without fail. I want them to be able to change anything without mistakes possibility and if an error occurs, I want them to actually be able to understand what is going on and what is the needed step to correct it. For this reason, I've asked some guys from our community to help me: Pim (@boekenbox) created the AutoConfig part of the new GUI and helped me to refine many other things inside the GUI itself. Narkotix (@narkotix) created the wizard tool for a new setup and refined it with Pim (@boekenbox) cooperation. Trashdog, Papaya, Anon, Uri, magGC, Emotionless_Ai, BestNaf, CryptoDROI, Exquitas, AleF helped me to test, debug and implement things you will see in the first MVP (Minimum Viable Product) of the new GUI that will be launched in beta stage in a few hours today. It is not the final GUI: it is the beginning of the new GUI concept and I want to refine it step by step together with the community following the community needs as we always do with our software. Here is a screenshot of the new GUI you can download it and use it from our Telegram Announcement channel: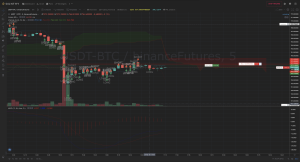 Starting by the 1st of May we slowly migrate all resellers to full token: all Gunbot licenses will still be sold for BTC but a % of those BTC will be used to buy GUNTHY tokens at market price from the best offer of the GUNTHY exchanges listing. During the month of May, the % of GUNTHY tokens bought at the market will be 10% of the license cost. This % will change over time as we proceed with the full integration and/or the price changes. The final step is to accept only GUNTHY to buy licenses.
I personally receive money from exchanges to implement their API integration and provide them users that generate volume: I am going to put all of that money in a jackpot and use that money for a permanent tournament for all Gunbot users. Here are the details:

In the new GUI you will find a PNL analysis tool. Navigate to that page and you will find this:
By clicking on the Tournament button you will access a statistics page that will tell you everything about your profit and loss valid pairs and exchanges you are trading. Based on profit and loss results, you will automatically enter board and every 30 days you will receive money based on the pnl ranking you get compared to other Gunbot users. As we speak valid exchanges to participate in the tournament are Binance, Binance Futures, Kraken Futures, Kucoin, OKEx. Some of these exchanges will add time to time, extra money to our jackpot: for example, OKEx is going to put up a reward during the entire month of May. Kucoin will do the same (details on May Kucoin and OKEx jackpots are to be published on this blog, stay tuned)
When we first started one year ago we were little fishes in terms of GUNTHY token community: I don't think a lot understood the real value of such a thing in our community. Exchanges didn't understand it as well. After 1 year the concept behind our token is better understood from both community and outsiders: our users generated over 24M of dollars of volume during the 10 days Binance Tournament. I am going to use this great input from our community to talk again with exchanges that are supporting us (Binance, Kucoin, OKEx) and make them a renewed proposal about GUNTHY listing. Pray for me.
GUNTHY exchange is at its final stage before the grand opening: as we speak the main welcome landing page is being installed and in the next week we will finalize legal licenses and we will announce the grand opening date: GUNTHY exchange lists GUNTHY as base coin against the major cryptocurrencies.
In the next weeks a new product will be launched (sponsored by Binance): GUNTHY Futures exchange. Stay tuned!
About Binance Tournament results: it has been amazing to see over 130 users of us close the tournament with profits and it has been amazing to see the great work users themselves have done to share and tune strategies in the Binance Tournament group on telegram. ARS, MM, GRID bots, Papaya strats, AutoConfig tricks have been very important and they are now enough tuned and with available examples of strategies that everyone can just download and use as their daily trading strategies, directly from GUNTHY Marketplace. I am now going to close access to MM and GRID bots to rank 10 or better as announced: I hope you all appreciated the opportunity to try and test them, if you want to use them in your daily trading, please go at one of the exchanges listing GUNTHY tokens and fill your GUNTHY license wallet of enough tokens to enter the rank 10.
I hope it is enough to get a good enthusiasm for a good start for May, keep it up and never give up!
~Gun