Gunbot Reseller Spotlight. Offering You the Chance to Buy from Your Favorite Contributor
In today's Gunbot reseller spotlight, we're focusing on Uri. He's a veteran of the crypto trading market and has been using Gunbot successfully for several years.
I've personally had the pleasure of working with Uri for around two years now, and I can tell you that it is a privilege to meet people like him.
Uri's been helping on the Gunthy chats for quite a while, and he is always willing to offer a helping hand to anybody in need. Uri set up his reseller business with one purpose in mind — to help others succeed.
So, in reality, I can't find words to introduce him, but I may not need any because most of you already know him and know I'm telling you the truth.
Please give it up for Uri and let him shine in his Gunbot reseller spotlight interview.
Gunbot Reseller Spotlight — Uri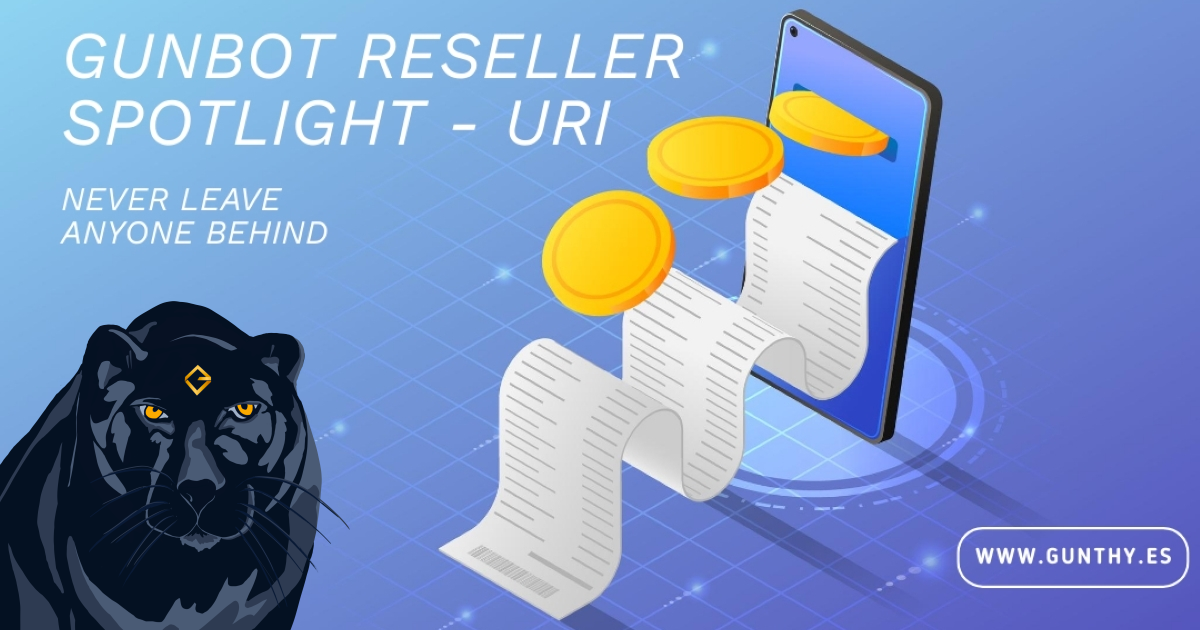 Gunthy: How long have you been using Gunbot?.
Uri: Four years now already.
Gunthy: How long have you been a Gunbot Reseller?.
Uri: 1 year.
Gunthy: What is your reseller website? Do you have social media accounts?.
Uri: www.gunthy.es/en shop.gunthy.es/en, I'm on Twitter as @crazymop and in telegram as well, almost 24h a day you can find me as @crazymop. I hate facebool lulz.
Gunthy: What makes you unique as a Reseller? Why would I buy from you?.
Uri: When I commit to something, I never give up. Never leave anyone behind, no matter the day or the time. Besides that, I like to help people, teach them, train them, obtain the best of every gunbotter. I'm a humble person and try to be kind and professional with everyone.
Gunthy: What Gunbot strategy you're using right now? Is it profitable? Do you Have proof?.
Uri: Motion of the Ocean, stepgrid, stepgridHybrid, and tssl, all are reliable and working like a swiss clock (did I say humble?).
Really?, do I need to show my profits? You can check me on every tournament. I'm always there, no matter the type of tournament spot or futures trading. I love Gunbot trading competitions.
Just in case you still have doubts about my performance, my BinanceFutures PNL last month.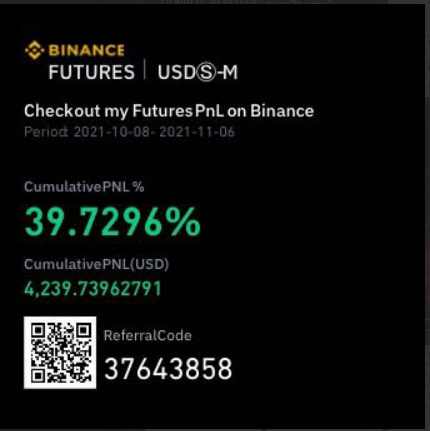 I love Futures trading, and I know it is not for everyone. So play your cards correctly in risk management. I try to educate almost all gunbotters on that.
Risk management is the key to success for a profitable trading experience in the long run in Futures markets and as well in Spot markets.
Gunthy: What advice can you give to new bot traders?.
Uri: Never go all-in with Crypto, don't take a loan with 6000% interest when Bitcoin is ATH, make the recurrent monthly investments to feed your bot till you reach the proper balance, crunch some numbers, and have a plan what figure you would like to get in the next 5y, Crypto just started (remember this).
Start slow trading, of course, don't start directly in futures markets if you have never traded futures before. Take your time to learn Gunbot and how it works.
First of all, focus on learning how risk management works in Gunbot. After that, how to maximize your profit and boost your botting with minimal money, then scale up your wallet to your needs.
Read from Viraltrading.org and the Wiki every piece of information you can gather to adjust to your strategy.
Using the backtesting tool in tradingview.com, even if it doesn't match 1:1 to your Gunbot when it's trading, helps to understand each strategy much better.
Comment and ask in Gunbot Elite. There are people ready to share their experience to help you not make the same mistakes, learn some tricks and experiment, never be afraid of experimentation, with little money, of course.
Gunthy: What's going to be the topic you write about this month on VT?
Uri: Oh well, I'm part of the marketing team, VT is almost my home, and I love it. I will write about another Market Maker variant that I didn't cover yet. Here we go :
Overview of PullBack for Market Makers bots, that's the only variant we're missing in #VT.
Final Words: To some of my customers, Gunbot really changed their life. Each 1 USD profit for them means they don't need to go back to work anymore. Of course, as usual, that depends on the economic needs, but Gunbot truly changes people's lives.
Never give up & happy gunbottin'!
Gunbot Reseller Spotlight — Conclusion
Thank you, Uri! For letting us find out more about you thru this interview and for your continuous support. Thanks to you, many new Gunbot users learn how to use the bot and profit from it.
I want to make these posts more interactive from now on, so if you're a Gunbot customer and want to ask a question about a particular reseller or would like an article explaining any Gunbot feature.
Please comment below in the chats or contact me directly on Telegram (@CryptoDROI) and let me know. What would you like us to write about?
If you're reading this post and haven't got Gunbot yet. Let me remind you that we are having a Black Friday to Cyber Monday Sale going on. Check it out!