Gunbot V21 News – End of the Year Report
Ei yo, Folks,
It's been a while that I did start that monthly news about the development team, and I'm really happy I did as it really helps to keep track of Gunbot for our entire community, as some people say 1 week in crypto is like 1 year in any other scene, Gunbot product as a RAD development sometimes isn't easy to all of us (even me) to keep track of all the new features implemented in our lovely money machine, so please keep always an eye in our Announcement channel as you can search and find the needed information for any new feature implemented last night if you are running the latest build, as well always the wiki is the point of reference and contains all needed information for a specific parameter or strategy for the last stable build and our admin channels will be always a helping hand if you're not totally sure of some specific need regarding Gunbot so just ask to us!
As Gunbot Team we will continue giving you insights of other things happening in our community and helping you in this adventure that is the crypto space, rest assured that we will be here for many years to come.
In our roadmap we have some great news to share with you for the next year one of them has a huge impact on how Gunbot speaks with the exchanges, we are going to do the full transition from pure Restful services to WebSockets services, which means a greater speed between the exchange and your Gunbot, improving the time and feedback of information between Gunbot and the exchanges, so the times of Cycling pair to pair and the delay between pairs in the exchange will be gone, and with bitRage you will be able as well to use interXchange between different exchanges order books, giving you the ability to benefit from the difference in the spreads from different exchanges.
Keep an eye on bitRage development as this is going to be a  gigantic Leap from what you already know.
At Christma's eve our beloved leader released for us a new Stable version as a gift to our community since he started that journey 4 years ago, containing many fine-tuned and UX improvements to the most professional crypto bot you can get and of course including all features of our latest Gunbot build and running under latest node js stable build v14 included all features requested by our lovely community.
without further ado…
Gunbot v21 Changelog
Changes in Gunbot v21
Only the most important changes are listed.
– New exchanges supported: FTX, Beaxy, and Txbit
– Coin margined futures: now supported on Binance Futures. Set

market type: delivery
– Improved resource usage and cycling speed: migrating from Node v9 to v14. Delete your gunbotgui.db file and set a new password to take full advantage
– Improved profit and loss stats: in telegram alerts and in the interface
– Improved GUI styling and behavior: stability fixes, performance improvements, and saving more state info to local storage
To grab our Crypto Trading Bot, go to www.gunthy.org/resellers don't forget: Gunbot V21 Still on Sale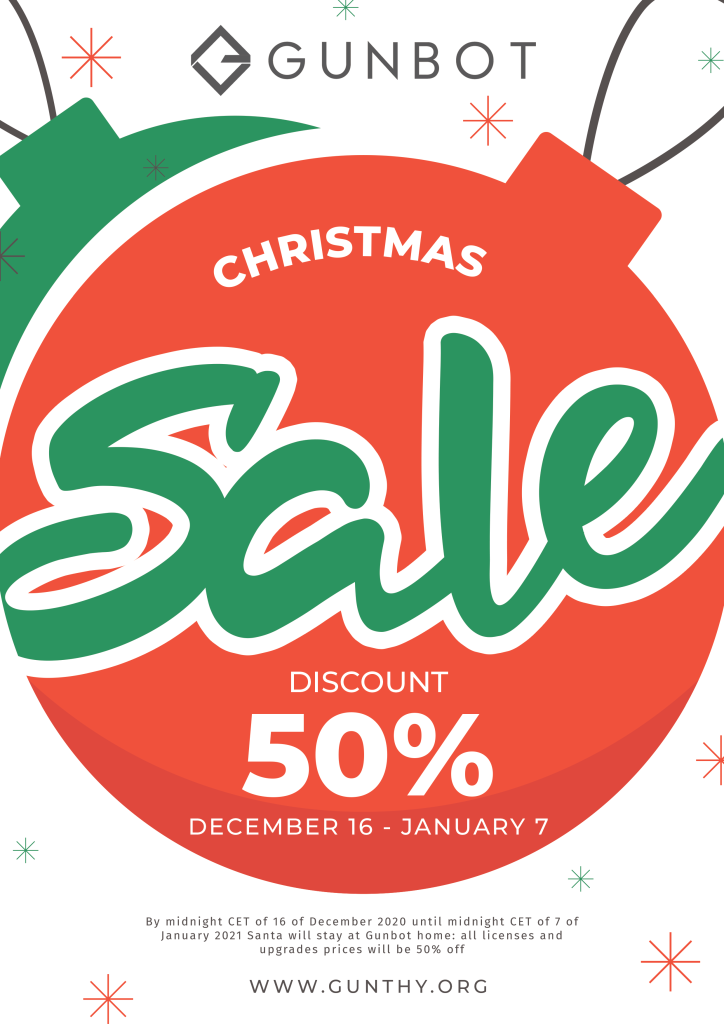 I wish you a Happy New Year,
That's all folks, happy Gunbot v21