Overview of Support and Resistance Strategy
That strategy was developed to take advantage using an specific math algo that will check in your SMAPERIOD + PERIOD what are the given support and resistance of your actual configured  time-frame for your trading pair.
If market is purely sideways we will ping / pong long and short between Support and Resistance, giving an advantage of real good entries. In case of a bullish or bearish market the bot will be able to trail to the next support / resistance and DCA in the proper price area, as recommended  we will long at support and short at resistance. Bot will be able to follow the price and close our trade in the best spot possible.
Those support and resistance are the pivot points where market should flip  or change the trend, because in the past it did exactly that, of course not always this will happen so we have some mechanics inside the strategy that will be able to average our entry price to get a good roe and successful trade.
We use a specific math function to take the calculation from a certain number of candles, so mainly Gunbot is able to assert where's actual support and resistance for the given PERIOD is effective in the actual price range.
We have built in special function that if you configure in the bot "ROE": 4000, strategy will close position after reach the s1 / r1 or maybe bot gives you a surprise  and close at s2 or r2, hehehe. 
Figure1: Candle chart with S1, S2 / R1, R2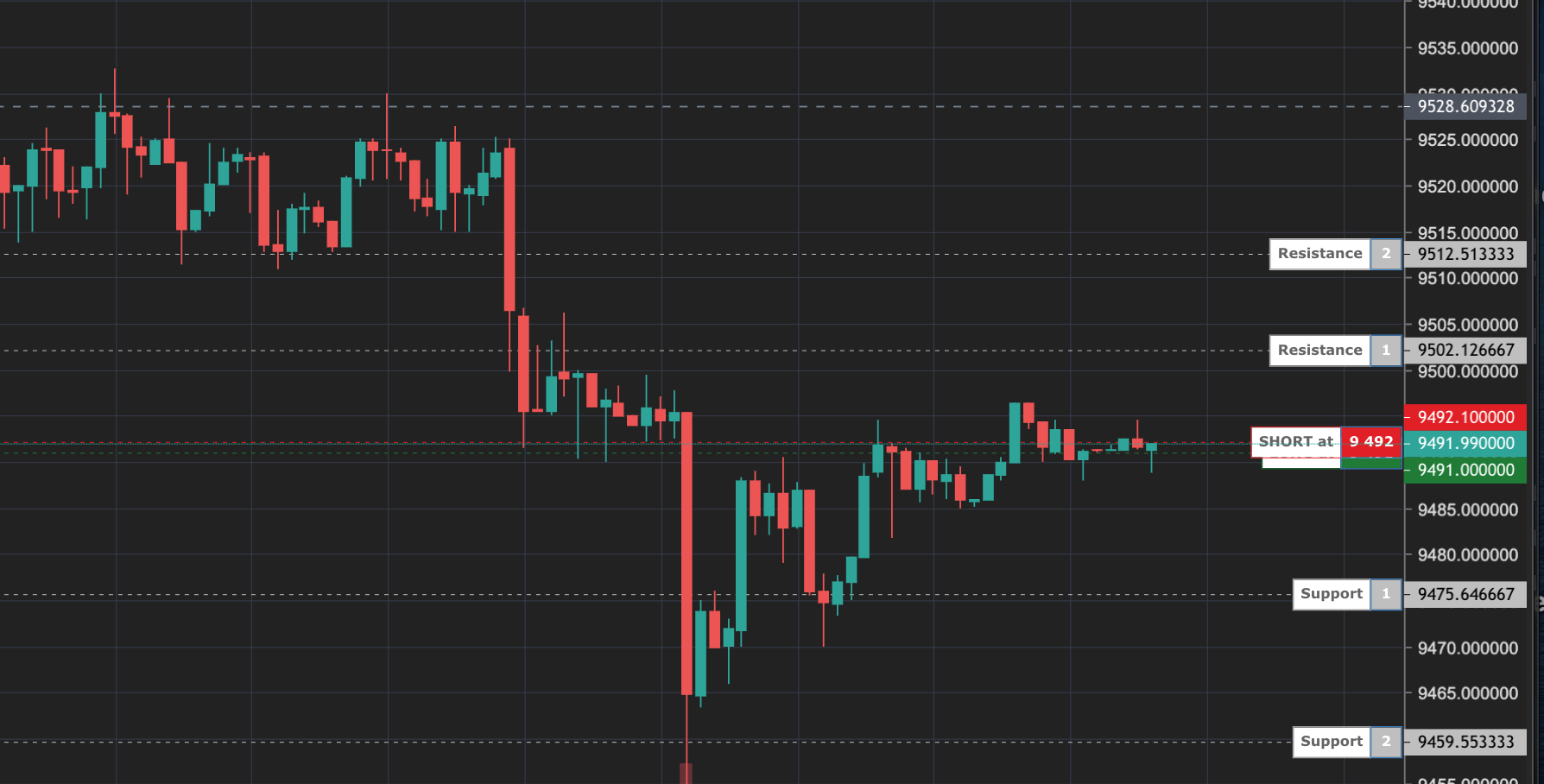 Support and Resistance Strategy
Strategy configuration:
| | | |
| --- | --- | --- |
| | | |
| | | |
| | | It will allow to average our entry price if s1/r1 are breakout and price moves to a new pivot s2/r2. |
| | | This setting will allow you to entry before reach the pure Resistance or Support as many times those levels aren't reach. It's a perceptual value, so we set that % down or up depending if price it's at support or resistance and we use that to tell the bot at what distance from s1 / r1 we should enter/close. |
| | | The following setting will tell the bot to DCA only if the spread between the previous S1/R1 is higher than the given one. |
| | | Expressed in quote (read note below), the bot will stop posting orders (rather DCA or normal orders) if the position + open orders did reach the threshold. |
| | numeric value in seconds (ex. 90) | Needed if you run the bot with zero delay, prevents duplicated longs or shorts. |
| | | When SupResMinROE value is reached the bot will close the position immediatly and it don't will wait for the price to go against you. |
Regarding the SupRes_MAX there are differences how to configure it, basically depends in the exchange you trade so mainly in Binance-Futures is expressed in quote that means if you trade pair USDT-BTC or USDT-ETC you will enter BTC value or ETC value depending on pair. In Bitmex and Kraken-Futures is expressed in base used so it will be number of contracts.
Attention: apart of those specific parameter you need the rest of parameters to run our MM bot.
Give it a try that strategy is really nice to scalp the market giving really good performance. As usual take in consideration your TRADING_LIMIT and SupRes_MAX based in your risk management. Make sure you don't over-leverage.
Enjoy the Support and Resistance Strategy. Happy gunbottin'!