Gunbot OKEx Crypto Trading Contest of November Starts Soon
Are you ready for the new Gunbot OKEx Crypto Trading Contest? Get ready to test your strategies, because the competition is about to begin.
A new crypto trading contest is here, open to all traders! Give it your best shot Today, and see who emerges victorious.
It's no secret that sharpening your trading skills can pay off huge. The ability to adapt to fast-changing market conditions, optimize your investments, and predict trends gives you an edge over other traders.
With our new trading competition starting now, we're sure you're already getting excited to meet up with your favorite trading bot and start earning some serious cash.
Get ready for your state-of-the-art Gunbot strategy as we start in just a few hours.
The Exchange included in this new Tournament is:
OKEx exchange for Spot trading.
Gunbot Tournaments is the most incredible opportunity to improve yourself as a trader and share profitable strategies with the most prominent traders of our community and earn some great money if you can beat them.
Gunbot OKEx Crypto Trading Contest Rules
– This month, Gunbot users can join the OKEX tournament and win up to 20,000 USD and a massive 100,000 GUNTHY tokens.
The Tournament starts at 00:00 UTC on the 3rd of November 2021, and it will end at 23:59:59 UTC on the 22nd of November 2021.
Each participant must complete at least 5000 USD of total volume in spot pairs.
The total prize is 20,000 USD and 100,0000 GUNTHY distributed as follows:
From 50 to 100 qualified participants at any market: the unlocked prize is 4000$ and 10,000 GUNTHY.
From 101 to 150 qualified participants: the unlocked prize is 10,000$ and 30,000 GUNTHY.
From 151 to 200 qualified participants: the unlocked prize is 14,000$ and 50,000 GUNTHY.
Over 200 qualified participants: the unlocked prize is 20,000$ and 100,0000 GUNTHY.
The unlocked prize will be distributed to qualified users that will reach the highest PNL % trading for all pairs in the spot, as follows:
From 1st to 10th highest pnl%: share equal percentual of 50% of the unlocked prize.
From 11st to 50th highest pnl%: share equal percentual of 30% of the unlocked prize.
From 51st to 100th highest pnl%: share equal percentual of 20% of the unlocked prize.
How to join the Gunbot OKEx Crypto Trading Contest in November 2021:
"You can participate in the tournament from any of the listed exchanges above."
How to opt-in for the Gunbot Crypto Trading Contest – Configuring your Gunbot
Click on the Profile icon.
Click on the last Tab called Tournament.
Toggle on Tournament Opt-in.
Set your nickname.
Click on top Menu Save Change".
"Make sure to give your bot a unique nickname, and this will only appear on the tournament leader boa"d."
If you run multiple bot instances and want all of them to participate in the Tournament, number your instance nicknames like this: TraderNickname_1, TraderNickname_2, TraderNickname_3. They will automatically get aggregated to a single leaderboard entry at the end of the Tournament.
Gunbot OKEx Trading Contest Added Bonus
Here's your Extra Bonus! For the first time ever, the Top Ten Winners of the Gunbot OKEx crypto trading contest will receive a NICE SHIRT with the Gunbot logo in it.
Are You Going to be the First Gunbotter wearing a Gunbot Shirt?
Check it Out!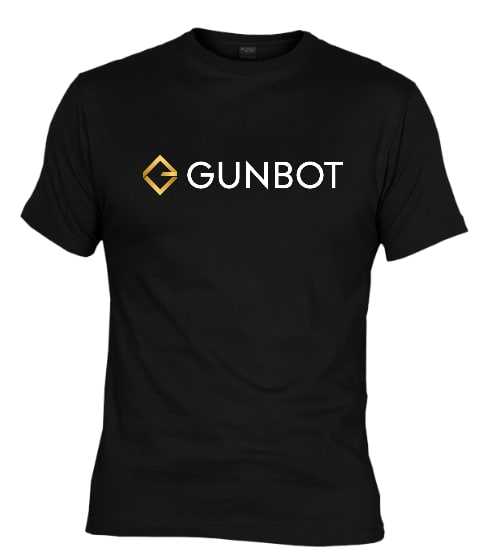 Nice gift, right? Remember, all you have to do is be one of the first ten winners, and you will receive your very own Gunbot Shirt.
That's all, folks, c-u next time, and Good Luck on the Gunbot Crypto Trading Competition!